One day too late, but who cares: Happy Birthday, my dear Norwegians! I hope you all had a wonderful 17. mai! I heard that Norway was a little nervous about the weather, but would it be 17. mai without that worry, really?
When I started my semester here in January, we had a welcome-day for the international students. One thing we did was called "call of nations". All new, international students (there are many of them at UMKC!) were gathered in the auditorium, and all the different nations were called, and the students belonging to that nation had to rise. By mistake Norway was not on that list, but I still got to stand up when asked "somebody we forgot?..". Anyways, my point was: I am the only Norwegian (or Scandinavian) student on campus. I think I might even be the only Norwegian in KC (just guessing, and making myself sound special). Only Norwegian if you don't count all the "Norwegians", that is. I have met a few of those. Like the woman working in the KC-souvenir shop at the Plaza. When she asked me where I was from, and I replied Norway, her face just lit up and she replied "ME TOO!!", smiling like a little kid on Christmas Eve.  ..Oh, really, I thought? I asked if she spoke any Norwegian, having the slightest feeling that there was some more to that story–  "nooooooo, of course not." Her great grandmother was from Norway, so in her heart she was Norwegian, too! Aaah, silly me! Same story with the woman working in the bank on campus, she is "Norwegian" too (what are the odds). Nope, she does not speak Norwegian, either.
My whole point here was just to let you know: no parade in KC, no Norwegian flag to be seen waiving, nobody selling kransekake. Only me. So I made myself a Norwegian flag on my yoghurt for breakfast.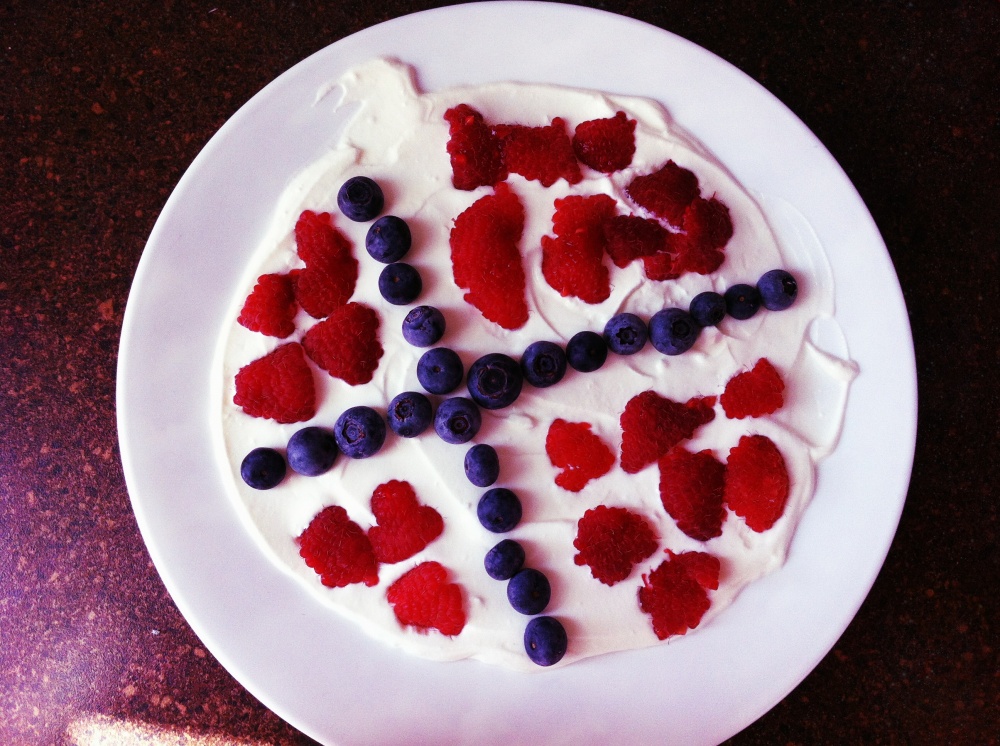 Then I thought: if not an all Norwegian day, why not an all American one. So I went to see my first baseball game. They do sell hot dogs and beer there, afterall. The Kansas City Royals also have blue and white uniforms (or what do you call that in sports?), closest I get to the Norwegian flag, sort of.
Drinking in public places is NOT allowed in the US, but oddly enough it is tolerated when in the parking lot before sports games. So people have a little picnic on the parking lot before going to the game, how fun! So we did, too.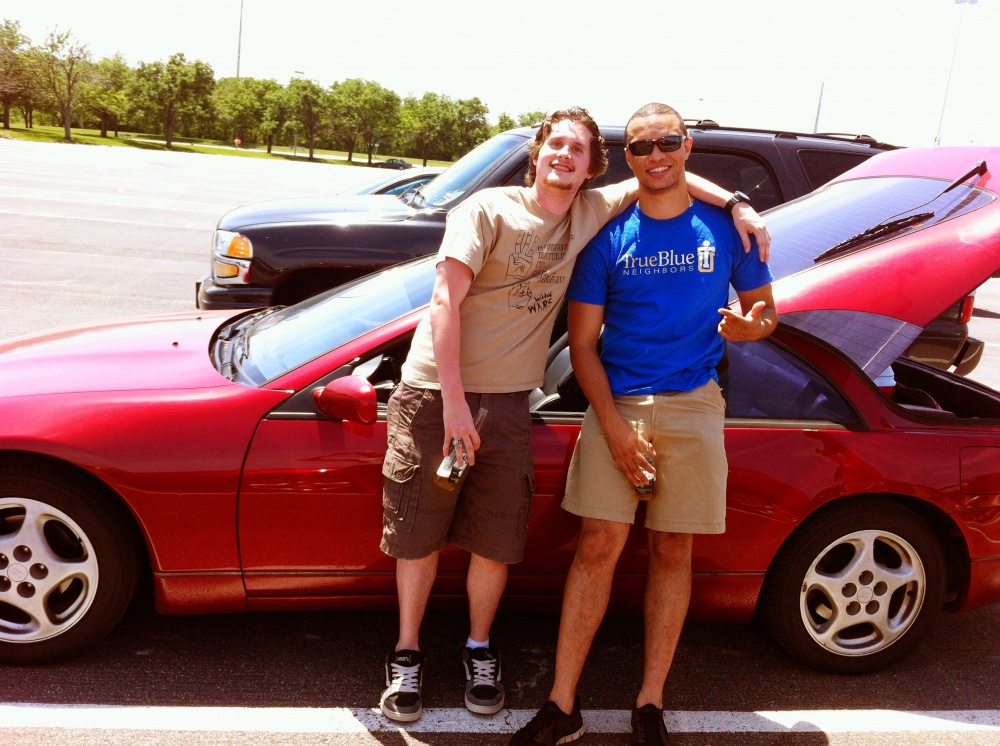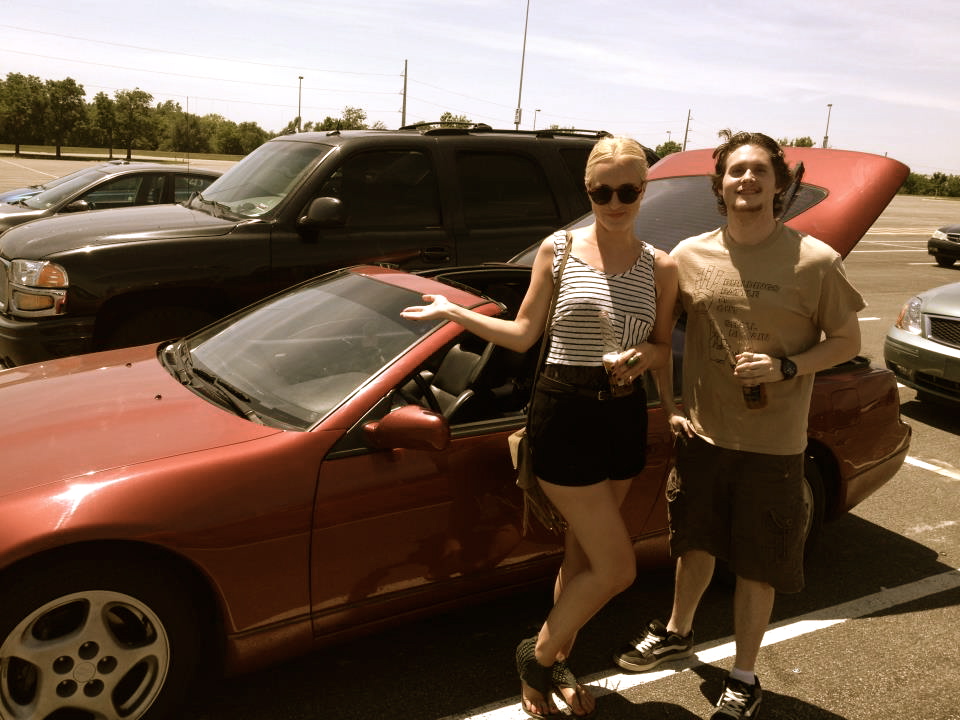 Then we saw the remaining half of the game. Baseball, I was warned, is the most boring sport to watch there is. A regular game lasts three or four hours, and most people who did not grow up in the US don't really understand the rules, either. I have to admit I didn't even try, after all these warnings.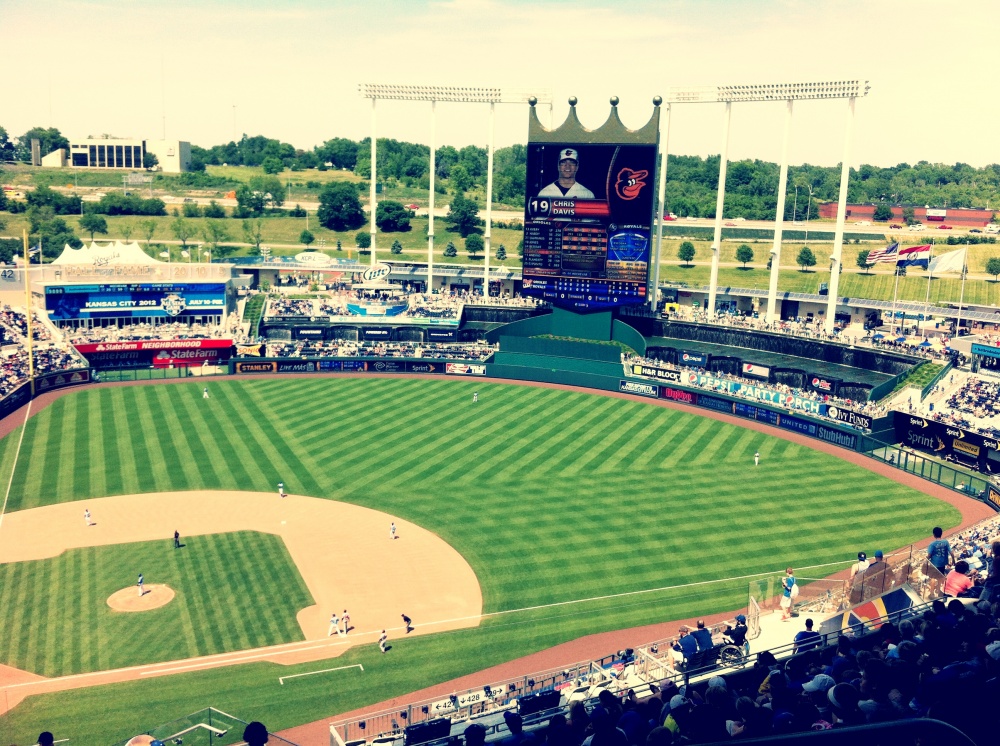 We had beer, afterall.
He was here from the beginning of the game, I believe.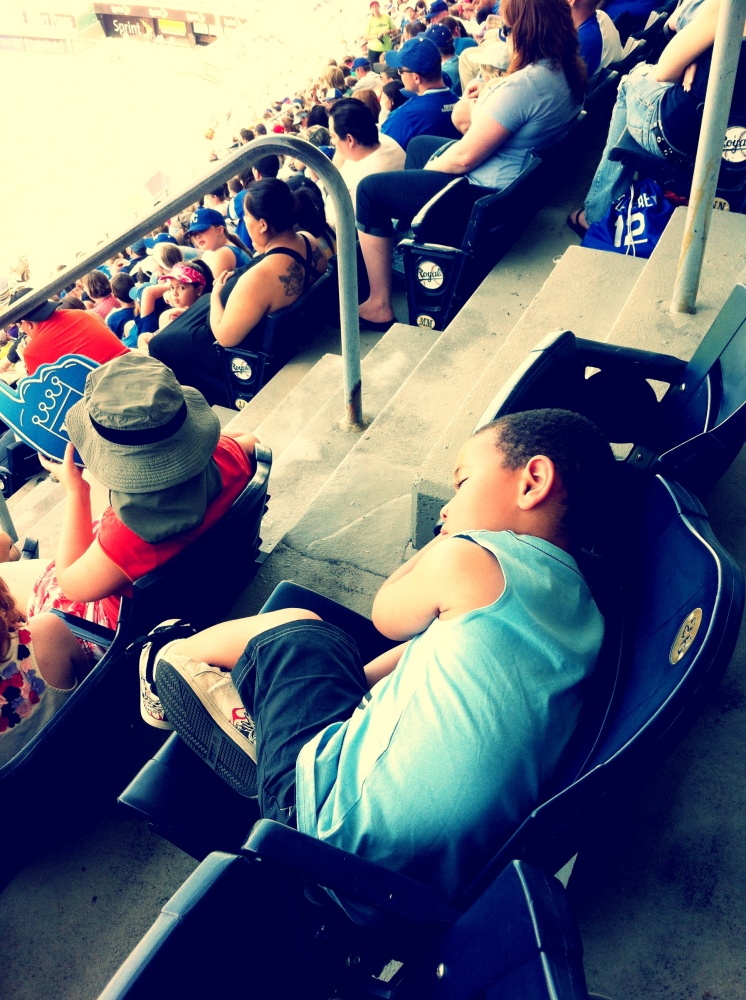 Today I have 13 days left till leaving KC for NYC. It is the most beautiful weather here, which I am truly happy for. Because I spend most of my days lying in the grass, reading a book, before going for a swim in the semi-outdoor pool. I was a little nervous I would be bored out of my mind here, but I'm good, really! I truly enjoy these last days of not doing too much, before I come back to working for the rest of the summer in Bergen, and a new semester (2. avdeling!!).
Now the grass is calling my name. No, not in a weird way.
TTYS <3
Annonser
---